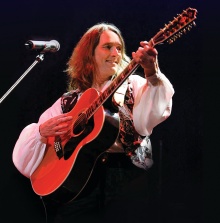 Er hat die meisten der diversen Welthits von Supertramp geschrieben und durch seine markante Stimme geprägt: Roger Hodgson. Im März kommt der legendäre Sänger/Gitarrist/Pianist/Keyboarder, der die Band 1983 verlassen hat, auf Deutschland-Tour und wird dann natürlich auch alle seine berühmten Songs spielen. Im Einklang mit der gleichnamigen Tour ist auf seiner Homepage ab sofort die brandaktuelle CD "Classics Live" als Download erhältlich, deren Lieder während seiner Welttournee 2010 aufgezeichnet worden sind.
 "The Logical Song". "Breakfast in America". "Give A Little Bit". "Take The Long Way Home". "It's Raining Again". "School". "Dreamer". "Sister Moonshine". "Even In The Quietest Moments". Die von Roger Hodgson geschriebenen und gesungenen Songs sind nicht nur Welthits, sondern haben längst (Radio-)Klassikerstatus. Im März 2011 kommt der ehemalige Supertramp-Frontmann auf Deutschland-Tournee, um solo und zusammen mit Aaron McDonald (Blasinstrumente, Keyboards, Gesang) natürlich auch alle seine berühmten Lieder live zu spielen. Zehn Stück davon beinhaltet die CD "Classics Live", welche vergangenes Jahr während einer Welttournee mitgeschnitten worden ist und jetzt auf www.rogerhodgson.com in digitaler Version zum Herunterladen zur Verfügung steht.
"Dank diesem Album wurde mir bewusst, dass ich nicht Supertramp-, sondern primär Roger-Hodgson-Fan bin", schreibt Rolling-Stone-Mitarbeiter David Wild über die Disc. "Es ist eine Sammlung betörender Lieder, viele davon Supertramp-Greatest-Hits, durch die ihr Komponist und Original-Vocalist sein beeindruckendes musikalisches Schaffen in bestechender Form unter eigenem Namen präsentiert".
Die brillante Live-Aufzeichnung dient somit als aktuelles Hör-Dokument der rund zwei Stunden langen Shows des nicht zuletzt wegen der faszinierenden Atmosphäre seiner Auftritte hoch geschätzten Künstlers. Karten zwischen 28 und 78 Euro (zzgl. Gebühren) sind im Vorverkauf erhältlich.      
Roger Hodgson – "Classics Live" 2011
08.3. Frankfurt, Alte Oper (Einlass: 19 Uhr)
09.3. Stuttgart, Liederhalle (Einlass: 19.30)
11.3. Leipzig, Gewandhaus
12.3. Merkers, Erlebnis Bergwerk
13.3. München, Philharmonie (E.: 19.30)
15.3. Nürnberg, Meistersingerhalle (E.: 19)
18.3. Hamburg, Musikhalle
Beginn: 20 Uhr
Karten von 28 bis 78 Euro (zzgl. Gebühren) an den Vorverkaufsstellen