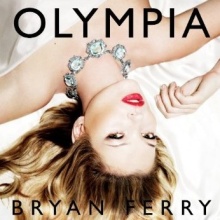 Auf seinem neuen Studioalbum erweist sich Bryan Ferry einmal mehr als Meister zart getupfter Stimmungsbilder. Für sein Soloprojekt versammelte der zeitlose Popstar eine Armada von hochkarätigen Musikern um sich. Vorweg: Das Resultat kann sich immer und immer wieder hören lassen.
Nach dem doch eher enttäuschenden Studioalbum "Dylanesque" aus dem Jahr 2007 hat Bryan Ferry mit der nun veröffentlichten "Olympia"-Scheibe zurück zu alter Schaffenskraft gefunden. Sein neues, garantiert dylanfreies Album ist mit einem Vorab-Video des ersten Songs "You Can Dance" brilliant gestartet. Gleich der Opener gleich einige Energie und avancierte längst zu einem Clubhit in ganz Europa.

Bereits mit den ersten Keyboardklängen fühlt man sich an Werke der Combo Roxy Music erinnert, als deren Sänger Ferry in den 1970er Jahren bekannt wurde. So gelingt eine würdige Eröffnung für ein musikalisches Champagnerbad.
Das Album besteht aus acht neuen Songs sowie Ferrys bewegender Version von Tim Buckleys "Song To the Siren" und einer unwiderstehlichen Interpretation des Traffic-Klassikers "No Face, No Name, No Number". Zu den neuen Songs gehören Kollaborationen mit den Scissor Sisters ('Heartache By Numbers') und Groove Armada ('Shameless'). Und: Erstmals seit Roxy-Music-Zeiten arbeitete Bryan Ferry für "Olympia" wieder mit Phil Manzanera, Andy Mackay und Brian Eno zusammen. Außerdem sind auf "Olympia" Beiträge von David Gilmour (Pink Floyd), Jonny Greenwood (Radiohead), Nile Rogers (Chic), Ex-Stone Roses-Bassist Mani und Flea (Red Hot Chili Peppers) zu hören.

"Olympia" erweist sich als sehr gelungenes Album mit Suchtpotenzial, auch wenn der Brite natürlich nicht an seine alten Roxy‐​Music‐​Klassiker herankommt. Eines bleibt: Der Stil von Ferry ist unverkennbar. Und: Er versammelte einmal mehr die richtigen Leute um sich. Heraus kam kein müdes Genuschel (was auch seine Reize haben kann), sondern Leben und Energie. Wer noch mehr von einem Herren Mitte 60 erwartet, dem ist nicht zu helfen. Bryan Ferry´s neue Scheibe ist rundum stimmig, ein Gesamtkunstwerk durch und durch.
Selbst das CD-Cover von "Olympia" ist ein echter Hingucker: Hier rekelt sich Top-Model Kate Moss in verführerischer Pose. Bleibt die Frage nach dem Namen Olympia? Der Titel spielt auf das gleichnamige, großformatige Aktbild Èdouard Mantes aus dem Jahre 1863 an. Als weltweit anerkannter Kunstsammler bewundert der Bergmannssohn Bryan Ferry diesen französischen Maler und dessen Werke. Eine etwas profanere Erklärung: Ferrys Firmensitz befindet sich im Londoner Stadtteil Olympia (Bezirk Hammersmith). (F.S.)
Bryan Ferry - Olympia
ASIN: B003VIW8DK
VÖ: 22.Oktober 2010