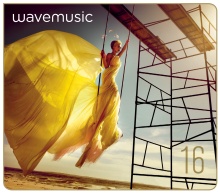 Plattencover sind Klang ohne Geräusch: Streng nach Noten oder hübsch verspielt. Klassisch schwarzweiß oder schräg. Sie können laut und wild sein oder leise und zart. Im Idealfall spiegelt das Bild auf dem Cover die Musik im Cover. Und manchmal hat, wer die Musik hört, wie hingezaubert das Bild vor Augen. Abbey Road, Breakfast in America oder die Zunge der Stones.
Die Bilder der neuen Compilation wavemusic 16 des Hamburger Premium Labels California Sunset Records, schweben. Der Kopf hinter der Kamera ist Modefotograf Kristian Schuller. Für seinen Bildband "90 Days One Dream" inszenierte er an den schönsten Orten der Welt mit jungen Models traumhafte Bilder.
Und genau so schwebt die Musik der Doppel-CD. Große Songs von größtenteils fast unbekannten Künstlern, darunter echte Geheimtipps wie Okou aus Frankreich, der Amerikaner Spencer Day oder der neuseeländische Sänger Tama Waipara. Aber auch etablierte Namen, wie Soul-Diva Oleta Adams oder das Bandprojekt The Whitest Boy Alive des norwegische Sängers Erlend Oye. 28 Titel aus unterschiedlichsten Genres, die jeder für sich berühren. Songs, die man eben nicht an jeder Straßenecke findet. Zusammen ergeben sie ein Kunstwerk, entspannt und gleichzeitig mit Subtanz. Eine wunderbare musikalische Reise, für die nicht einmal 90 Tage Reise ausreichen.
Schullers Fototräume, die Musik der wavemusic 16. Bilder und Töne, traumhaft als Hardcoverbuch in Seidenpapier eingeschlagen. Sehen, hören und fühlen intensiv.
wavemusic 16: Musik
Eine der derzeit hippsten Bands der Welt trifft auf eine Grand Dame des Souls? Ein Elektro-House DJ gibt einem der erfolgreichsten deutschen Jazzmusiker die Klinke in die Hand? Diese genauso eigenwillige wie besondere Musikauswahl macht die brandneue CD-Compilation WAVEMUSIC 16 zu einem Juwel in der oft recht eintönigen Compilation-Landschaft. Mit der neuesten Ausgabe ihrer wavemusic-Erfolgsserie zeigen sich die Hamburger von California Sunset Records wieder einmal überaus geschmackssicher und vielfältig.
Songs aus unterschiedlichsten Genres, die jeder für sich berühren. Songs, die man eben nicht an jeder Straßenecke findet. Zusammen ergeben sie ein Kunstwerk, entspannt und gleichzeitig mit Subtanz. Eine wunderbare musikalische Reise, für die Sonntagnachmittage gar nicht lang genug sein können.
So finden sich auf der CD die Berlin-Norwegen-Connection The Whitest Boy Alive um den Sänger Erlend Oye, die erwürdige Souldiva Oleta Adams, der französische Elektro-DJ Martin Solveig und auch Hellmut Hattler, ehemals Bassist der Krautrockband Kraan, Jazzecho-Preisträger und heute unter dem schlichten Namen HATTLER als Solokünstler unterwegs.
Dazu fast vollkommen unbekannte Geheimtipps wie z. B. der Neuseeländer Tama Waipara, sein Song "Where I Go" grooved so entspannt dahin, dass er ein Anwärter auf den nächste Sommer-Hit ist. Oder der Amerikaner Spencer Day, der so erfrischend poppig vor sich hinswingt, als hätte es Michael Buble, Robbie Williams und Jamie Cullum und nie gegeben.
wavemusic 16: Kristian Schuller
Ein Fotograf in der Jury eines TV-Modelcontests? Warum denn das? Das dachte sich auch der erfolgreiche Modephotograph Kristian Schuller als die Anfrage für "Germany's next Topmodel" kam. Sie kam nicht einmal, sondern viermal. Das Angebot, dass Schuller schließlich überzeugte: 90 Tage unterwegs mit jungen Mädchen voller Träume zu den schönsten Plätzen der Welt.
Für Schuller nicht nur ungewöhnliche und spannende Herausforderung, sondern auch Inspiration für ein Experiment neben seiner Teilnahme als Juror. Die Idee: Ein separates Buchprojekt mit den Mädchen, fotografiert während der Drehpausen zur TV-Staffel  "Das hat Sie geschickt gemacht", sagt Schuller über Heidi Klums kleines "Extra" um ihn zu überzeugen. Das Ergebnis kann sich sehen lassen. Mit dem Fotoband "90 Days one Dream" entstand ein wahres Kunstwerk. Zwischen Kapstadt und L.A. inszenierte Schuller zusammen mit seiner Frau, Designerin Peggy Schuller, fantastische Photostrecken, ein Abenteuer, das für alle Beteiligten am Ende vor allem eines wurde - ein Traum. Dieser Traum wurde mit dem silbernen Fotobuchpreis 2011 ausgezeichnet.
Die Compilation Serie "wavemusic"
Mit der Serie "wavemusic" erleben Sie einen musikalischen Tag am Meer. Eine Mischung aus entspannten, gutgelaunten Songs des Smooth Jazz, Pop, Soul und Lounge. Mit Künstlern wie De Phazz, Eliane Elias, Nils Landgren, Raul Midón, Till Brönner, Lee Ritenour, u.v.m. Eine vielseitige Sammlung warmer, entspannter Grooves als wohlklingende Sommererinnerung für das ganze Jahr.
Das Label California Sunset Records GmbH feat. wavemusic
Das renommierte Label California Sunset Records (Hamburg/Los Angeles) hat mit der premium music-brand wavemusic eine CD-Serie entwickelt, die genau den Ansprüchen eines gehobenen Lifestyle-Publikums entspricht. Durch außergewöhnlich hohe Qualität der Musikzusammenstellung in den Genres Lounge, Pop Jazz und Soul, feinste Verpackung und edles Design hat sich wavemusic zu einer Art Qualitätsversicherung in der Musik entwickelt – it's a trustbrand. CDs, die man durchhören kann und die man sich und anderen gerne schenkt. wavemusic-CDs sind weltweit im Einzelhandel nur in führenden Outlets verfügbar.