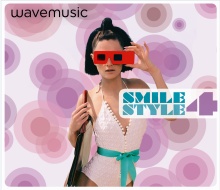 Wie klingt Champagner? In den schönsten Bars und Lounges aufgelegt, entfaltet die SMILE STYLE 4 die Wirkung des französischen Edelstoffs – es prickelt, es duftet, es schmeckt und es turned an. Die SMILE STYLE 4 Compilation, präsentiert von dem Hamburger Label California Sunset Records/wavemusic und DJ Gärtner der Lüste, ist pauschal keinem Anlass, Ort oder Genre zuzuordnen. Im Gegenteil, mit ihrer Mischung aus NuJazz, Chanson, Swing & Elektro hat sich die SMILE STYLE 4 nur einem Ziel verschrieben: dem Hörer ein Lächeln aufs Gesicht zu zaubern.
"Mein Job als DJ ist es, »Good Vibrations« unter die Menschen zu bringen", sagt DJ Gärtner der Lüste über sein Werk. "Bars und Lounges sind meine Welt und wenn die Songs, die ich auflege, zu Fingerschnippen, einem breiten Lächeln und guter Laune führen, dann weiß ich: »That's the stuff«. Beseelter Hörgenuss ist die Mission für SMILE STYLE VOL. 4."
Für die vierte Ausgabe der Compilation-Serie SMILE STYLE hat der DJ "Gärtner der Lüste" die schönsten Songperlen handverlesen. Aufgezogen zu einem schillernden Schmuckstück aus abwechslungsreichen Genres, Tempi und Sprachen, das uns die Tage versüßt, verliert die SMILE STYLE nie das Gespür für eine gefühlvoll ausgewogene Stimmung.
Charmante Cover wie Pink Turtles "Walk on the Wild Side" oder die wunderbare akustische Version von Amy Winehouse' "Valerie" räkeln sich neben clubbig-jazzigen Tracks wie "Lady" des französichen Duos The Mighty Bob oder der Essential Remix von "Please Don't Leave" des Italieners Paolo Fedreghini.
Ein besonderes Highlight ist die Instrumental-Version von Peter Fox Hit "Haus am See". Hier merkt man, dass seine Beats derart gut produziert und die Kompositionen so ausgereift sind, dass selbst die Instrumental-Version wohl jeden zum mitswingen bringt. Und Sommerfeeling pur kommt bei Gecko Turners erfrischendem Song "Dime Que Te Quéa" oder der Dub/Reggae Version des Prince-Titels "Boys & Girls" von The Dynamics auf.
Etwas Besseres hätte uns gar nicht passieren können, um uns auf die sehnsuchtsvoll erwartete Sommersaison einzustimmen!
Smile Style. Don't take life too serious.
Compiled by DJ Gärtner der Lüste für California Sunset Records/wavemusic