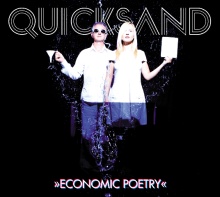 Die Stimme von Sandie Wollasch schwingt irgendwo zwischen Karen Carpenter, Kate Bush und Rickie Lee Jones, findet sich aber immer wieder bei "Sandie". Eine klang-ästhetische Nähe zu DePhazz möchte man nicht verleugnen. Über Jahre hat Produzent Pit Baumgartner seine electro-organischen Musikkollagen etabliert. Auf "Economic Poetry" wendet er die selbe Technik beim Texten an; lyrische Zitat-Splitter der zeitgenössischen Literatur werden zu Popsongs verdichtet ... "better pay the poet".
Alles schon mal gehört? ... klar doch bzw. auf keinen Fall. Baumgartner's Verständnis von Kunst bezieht sich auf eine gemeinsame "Muttererde", aus der allerdings immer wieder unterschiedliche Pflanzenarten sprießen ... in der Musik als auch in der Literatur.
"Economic Poetry" ... reimt sich auf sanfte Unverschämtheit ("The problem with you, is your problem with me") und energische Zurückhaltung ("Being here, is just a way to be somewhere"). "Albert on the bike" ist eine Widmung an Albert Hoffman, der die "Pop-Poetry" schwer messbar aber wohl nachhaltig beeinflusst hat.
Quicksand ist das Geständnis der "unerreichbaren Schönen", die nur Ärger verursacht, wo immer sie auftaucht. Die Nadel spitz, die Klinge dünn. Schmerzlos aber verwundbar. Dazu passt die Statistik, das sich bei Fußballspielern das Verletzungsrisiko erhöht, je mehr Frauen zuschauen.
 
"Economic Poetry" reimt sich auf amüsantes Songwriting, entspannte Interpretationen und stilsicherer Klang ... passt in jede Schublade ... aber gerne doch. +++
Quicksand Hörproben bei MPN und unter:
Hörproben und Infos zum Album: http://www.phazzadelic.de/quicksand/
Single & Video zu "Ding Dong Day": http://www.phazzadelic.de/quicksand/single.htm
Und wer mehr Informationen zu Sandie Wollasch sucht, wird hier fündig:
http://www.sandiew.de/