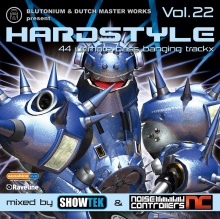 Brachiale Bässe, donnernde Kicks, Melodien zum Abheben – das sind die Zutaten zur perfekten Partymusik – denn nirgendwo sonst wird so exzessiv gefeiert. Längst ist Hardstyle kein Insiderthema mehr. Hardstyle ist einzigartig, aber Anleihen an u.a. House, Trance, Dubstep, Hardcore haben Hardstyle zu einem Sound für die Massen gemacht.
Zum 22. Mal präsentieren Blutonium und Dutch Master Works die Zukunft der Harder Dance Styles auf dem Soundtrack zur gesamten Szene - Hardstyle Vol. 22.
Showtek beweisen auf CD1 einmal mehr, warum sie zur Elite der elektronischen Musik gehören. Als Gäste haben sie dieses Mal die absoluten Lieblinge der Szene eingeladen. Noisecontrollers zelebrieren auf CD2 alle Fassetten des modernen Hardstyles und präsentieren die neuesten Tracks ihres Labels Digital:Age.
Ab Freitag, den 25. Februar gibt es wieder die härtesten Beatz um die Ohren geschleudert. 44 brandheiße Hardstyle-Hymnen - über 2,5 Stunden perfekt gemixter Partysound der härteren Sorte auf einer Doppel-CD und als digitaler Download.
Showtek sind nicht nur die weltweite No.1 der Hard Dance Szene, sie haben auch den Crossover geschafft. Auf Einladung von Deadmau5  zeigten Showtek an Sylvester auf dem Mau5querade Ball 2011 in Edmonton , Canada wie man Party macht. (http://www.youtube.com/watch?v=-rzWSjbANCY) . Ihre laufende "F*** The System" Tour rund um den Globus ist in jeder Stadt und in jedem Land komplett ausverkauft.  Wie letztes Jahr (wo sie quasi alle Preise abräumten) werden Showtek auch 2011 die Hard Dance Awards (Ende Februar) dominieren. Wenn die beiden sympathischen Brüder aus Eindhoven nicht auf Tour sind, tüfteln sie am perfekten Sound für neue Tracks. Ihr Sound ist immer einzigartig und immer Showtek – Popstars am Dance Himmel.
Zum Start ins 10. Hardstylejahr haben die Showtek Brüder (Sjoerd aka Duro und Wouter aka Walt) die Noisecontrollers (Bas Oskam & Arjan Terpstra) eingeladen, CD2 der neuesten Hardstyle Vol. 22 zu mixen. Herausgekommen ist ein Weltklasse Set mit dem Neuesten und Besten was Hardstyle zu bieten hat.
Noisecontrollers starteten 2005 und veröffentlichten ihre Tracks auf Fusion Records. Arjan produzierte Hip Hop, Bas Hard Trance. Beide entschlossen sich gemeinsam Hardstyle zu produzieren mit dem Ziel das Genre auf ein neues Level zu heben. 5 Jahre später sind sie ganz oben und gehören zu den besten DJ-Acts und Produzenten weltweit und spielen jedes große Festival als Headliner. Ende 2010 haben Wildstylez (Hardstyle Vol. 21) und Noisecontrollers bekanntgegeben, dass sie ihre Labels verlassen und gemeinsam ihr eigenes Label DIGITAL:AGE gründen. Natürlich präsentieren die Jungs einige ihre neuesten Titel exklusiv auf Hardstyle Vol. 22.
Auf Hardstyle Vol. 22  findet man natürlich wie immer nur das Beste vom Besten. Die größten Hits und unzählige neue und exklusive Titel. Diesmal haben es Dutch Master, Headhunterz, Blutonium Boy, Zatox, Wildstylez, Psyko Punkz, Flarup & Activator, D-Block & S-Te-Fan, The Pitcher, Tuneboy, B-Front uvm. in die Sets von Showtek und Noisecontrollers geschafft, sowie natürlich die neuesten Werke der Meister selber.
Wie die Vorgängeralben wird auch Hardstyle Vol. 22 weltweit veröffentlicht und steht auch in allen Downloadstores zum legalen Herunterladen bereit.
Hardstyle Vol. 22
2-CD-Compilation
VÖ: 25. Februar 2011
EMM (EMI)