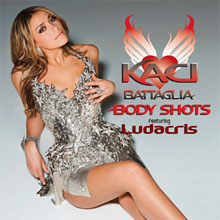 Trotz ihrer gerade mal 21 entzückenden Jahre ist die junge Lady mit den rehbraunen Augen im Grunde genommen ein alter Showgeschäftshase, der rein gar nichts mit dem Stereotyp vom unerfahrenen Newcomer gemein hat: Schon im Alter von 13 Jahren hatte Kaci nahezu die ganze Welt bereist, im Gepäck zahlreiche ihrer kapitalen Top 10-Singles!
Mit ihrer neuen Single "Body Shots" (feat. Ludacris) aus dem aktuellen Longplayer "Bring It On" unterstreicht das US-Popwunder nun ihren Status als absolute Ausnahmekünstlerin, denn der Track landete in den USA prompt auf Platz 1 der Billboard's Club Play Charts und folgt damit dem Beispiel ihrer letzten Hitsingle "Crazy Possessive".
Schon mit süßen 3 Jahren ließ sich das in Florida geborene Wunderkind Kaci kaum bremsen, performte aus dem Stand auf jeder Bühne. Unter anderem gehörten die Hits von Judy Garland und die Musicals "Meet Me In St. Louis" und "Easter Parade" zu Kacis absoluten Vorlieben - nicht typisch für eine Dreijährige. Während die anderen Kinder sich die Zeit mit "Barney" vertrieben, wog sich Kaci vor ihrem Kinderzimmerspiegel zu den Strophen von "Over The Rainbow". Mit 6 folgten erste Gesangsstunden, mit 8 gings dann ins Performing Arts Camp. Im Alter von 10 blickte das Multitalent schließlich auf den Release ihrer ersten CD zurück und hatte selbständig begonnen, sich um die Buchungen ihrer eigenen Gigs im heimischen Florida zu kümmern.
Ihren ersten Plattenvertrag unterzeichnete sie mit 12Jahren - die Debütsingle "Paradise" enterte nicht einmal zwei Wochen später die internationalen Top 10-Listen. Was dann folgte, liest sich wie ein modernes Popmärchen einer Popprinzessin: Ausverkaufte Shows und ein restlos begeistertes Publikum, welches jeden ihrer Texte mitssang, gefeierter Supportact auf gemeinsamen Touren mit Superstars wie den Backstreet Boys, Bow Wow, Jessica Simpson, O-Town, Samantha Mumba, S Club 7 oder Atomic Kitten!
Eine künstlerische Pause führte sie zurück auf die Schulbank, wenig später hatte sie nicht nur ihren erfolgreichen Abschluss im Fach International Relations & Economics in der Tasche, sondern auch eine ganz neue, andere Sicht auf das Musikbiz.
2005 dann die Rückkehr ins ganz große Rampenlicht mit der Leadsingle "I Will Learn To Love Again" für den Soundtrack der Hilary Duff-Filmkomödie "The Perfect Man", auf die der Dance-Hit "I Can`t Help Myself" wenig später folgte. Vom einstigen Wunderkind zur ernsthaften Songwriterin, die zur Zusammenarbeit mit den größten Talenten in Sachen Writing und Produktion führt: Von P!nk über Coldplay zu Kanye West, um nur einige zu nennen.
Und das nächste Kapitel im Schaffen Kaci Battaglias - einer hoch kreativen und zu allem entschlossenen, jungen Dame, der die Welt zu Füßen liegt. Einer echten Ausnahmekünstlerin, die von der Musik geprägt wurde und heute die Musik mit ihrem Einfluss prägt.