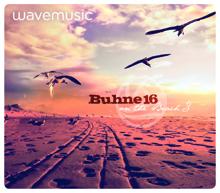 Wenn der Sommer kommt zieht es die Meisten unweigerlich ans Meer. Das Label California Sunset Records hat seinen Hot Spot an der Buhne 16 in Kampen, Sylt gefunden. Denn am Strand hinter den Dünen beginnt eine andere Zeitrechnung, was noch auf dem Parkplatz wichtig war, spielt an der Buhne angekommen schon keine Rolle mehr. Die Zeit steht quasi still.Die Compilation wavemusic BUHNE 16 – ON THE BEACH #3 fängt diese Momente des kleinen Glücks ein.
Sie holt die passende Musik an den Strand. Nichts scheint natürlicher, als dass Donavon Frankreiter im Sand Ukulele spielt, Xavier Rudd sein Board zum Wasser trägt und Lelia Broussard mit Joseph Kaye zum Frühstück ein Duett anstimmt. Sie und die anderen großartigen Künstler der neuen Buhne-CD malen uns mit Gitarre und Gesang Bilder in den Kopf, Bilder von Sonne, Wellen und Strand – der Buhne 16-Soundtrack eben.Visit Buhne 16 and hang loose! 
BUHNE 16 und wavemusic
Die Buhne 16 auf Sylt ist ein magischer Ort. Direkt am Strand von Kampen, ab von Promenade und Autos, versteckt zwischen den Dünen. Natur pur, ein wunderbarer weißer Strand und der Ruf der Möwen. Das ist der wahre Chill-out und Freiraum, die Seele baumeln zu lassen.
In dieser lockeren Atmosphäre fühlte sich in den 80ern schon Gunter Sachs wohl und schuf sich mit Freunden an der Buhne sein kleines Saint Tropez des Nordens. Als die Cousins Sven und Tim Behrens 1999 die Buhne 16 übernahmen, sollten dieses Gefühl des stilvollen Müßiggangs, der Entspannung und auch die legedären Partys weitergeführt werden.
Die Buhne 16 lebt durch ihre Besucher und die Betreiber. Denn hier heißt es nicht Kleiderordnung oder Stereotyp. Vor allem die verschiedenen Typen, die die Crew ausmachen, machen die Buhne zu dem, was sie ist. Das Flair ist gelassen und man ist offen für Neues. Mit Events wie dem Longboardfestival, die Endless Summer Partys, das Osterfeuer, Pfingst-Chill oder Konzerten. An der Buhne 16 ist immer etwas geboten.
2009 hat das Hamburger Musiklabel California Sunset Records an der Buhne 16 sein zu hause gefunden und ist Musikpartner der Buhne 16 geworden. Bei Partys wie dem Pfingstchill oder den Grill&Chills sorgt das wavemusic DJ-Team für die richtige Stimmung. Für das gemeinsame Musikfestival kommen jedes Jahr großartige Singer/Songwriter an die Buhne 16. wavemusic & Buhne 16 – eine runde Sache.