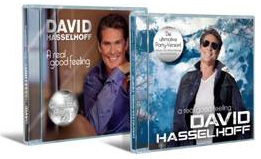 Die Zeiten haben sich geändert, doch er ist ganz der Alte und sich selber treu geblieben: David Hasselhoff! "The Hoff" ist zurück und gibt uns das, was wir brauchen – oder so lange vermisst haben: Den Spaß an der ultimativen Party, die ganz große Show. Fast auf den Tag genau 22 Jahre nach seinem legendären "Looking For Freedom" erscheint am 1. April 2011 ein neues Studioalbum vom Godfather des Easy-Listening-Pop: "A Real Good Feeling". Er wird in zwei Konfigurationen im Handel stehen: als Standard-Album und als ultimative Party-Version. Was es damit auf sich hat? Lesen Sie weiter.
Drehen wir die Uhr aber vorher noch kurz zurück in die 80er Jahre. Madonna und Michael Jackson waren die Ikonen der Pop-Musik, Magnum und Miami Vice die Helden der Fernsehzuschauer. David Hasselhoff war beides. Das Gefühl der grenzenlosen Freiheit, das blendende Aussehen, die gute Sache, für die der smarte Kalifornier kämpfte, sexy Mädels um sich scharend, reich, berühmt und beliebt – für all das stand David Hasselhoff. Seine Geschichte wurde zur Anhäufung von Superlativen und Rekorden: David war in den gesamten 1990ern so häufig auf dem Cover der BRAVO wie kein anderer Star und steht im Guinness-Buch als "Most Watched TV Star In History". "Baywatch" wurde in 144 Länder ausgestrahlt und gilt noch heute als erfolgreichste Fernsehserie aller Zeiten. Das von David Hasselhoff vermittelte Lebensgefühl stand für das Amerika der Achtziger. Jack White entdeckte den Wahl-Kalifornier schließlich auch als Sänger. Sein "Looking For Freedom" traf die deutsch-deutsche Republik mitten ins Mark. In ihren stärksten Zeiten ging sie bis zu 70.000 Mal am Tag (!!!) über die Ladentheke. Zum folgenden Jahreswechsel präsentierte David seine Hymne am Brandenburger Tor der wiedervereinten Nation, die mit Schulterpolstern, Reiterhosen und gefütterten Jeansjacken (nochmal: Die Achtziger!!!) zum Feuerwerk gekommen war. Das gleichnamige Album wurde zum meistverkauften des geschichtsträchtigen Jahres und brachte die ersten von rund 45 Auszeichnungen für seine Musik. David Hasselhoffs Songs gehören zum Soundtrack der Deutschen.
Das neue Album "A Real Good Feeling" bringt den Glanz dieser großartigen Zeit und ihren besten Helden zurück. David Hasselhoff schenkt uns hier brandneue Songs, die weder die Welt verbessern wollen, noch einen Kulturauftrag verfolgen. Die Botschaft ist klar: Entertainment, also beste internationale Unterhaltung – und genau dafür steht David Hasselhoff. Er ist der ultimative Popstar. Sein neues Repertoire knüpft relativ nahtlos dort an, wo "Looking For Freedom" aufgehört hat – nicht ohne Grund sang der Deutschland-Fan auch zum Jahreswechsel 2010/11 wieder am Brandenburger Tor! Die neu eingesungenen Smash-Hits von damals wurden von Erfolgs-Produzent Christian Seitz (u. a. DJ Ötzi) frisch aufpoliert. Neben den Klassikern finden sich auf dem neuen Album auch ein gutes halbes Dutzend neuer Produktionen, die Hasselhoff von Christian Geller (u. a. No Angels, Modern Talking) auf den Leib geschrieben wurden. Der Songwriter und Produzent Geller ist übrigens auch ein Kind der 80er und bekennender Hasselhoff-Fan.
"It's A Real Good Feeling", der brettstarke Titeltrack des Comeback-Albums 2011, könnte als Headliner über dem neuen Lebensabschnitt des David Hasselhoff stehen. Ein wirklich gutes Lebensgefühl hat er – und das vermittelt er auch. Die Nummer wurde als erste Single gepickt. Die Party-Single "California Girl" ist eine Liebeserklärung an Hollywood, genauer gesagt an Venice Beach, der Heimatstadt von Mr. Baywatch. Mitreißend auch die Sommernummer "Pina Colada Girl", die mit ihren Reggae-Rhythmen an "Limbo-Dance" erinnert. Und außerdem warten beide Versionen – Standard- und Party-Version – mit jeweils unterschiedlichen Titeln und Bonustracks auf. So gibt's auf der Standard-Edition auch zwei deutsche Copyrights zu hören: "Das Café an der Seine" (die deutsche Fassung von "Heartbreak Café") und das schon 1993/94 unfassbar erfolgreich gewesene, für Hoff-Verhältnisse ungewöhnlich getragene und berührende Duett "Wir zwei allein" (mit Gwen). Für "I'll Be Here With You" ist David mit seinen Töchtern Taylor-Ann und Hayley ins Studio gegangen. Beide Songs sind für Romantiker und Melancholiker ein Muss! Wer den Spaß am Feiern und Abtanzen vorzieht, kommt mit der ultimativen Party-Version mehr auf seine Kosten: Der Bonustrack "Let's Have A Party" und Party-Mixe von "A Real Good Feeling" und "California Girl" warten hier auf die Fans, genau wie der "The Hoff Party Megamix 2011" aus den neuen Songs des Albums. Natürlich darf aber auf einem Comeback-Album auch ein Hit-Medley der goldenen Zeiten nicht fehlen: "Limbo Dance", "Crazy For You" und "Looking For Freedom 2011" gibt's auf der ultimativen Party-Version von "A Real Good Feeling" neu gemixt im musikalischen Gewand des dritten Jahrtausends. Und als absolutes Novum präsentiert David auch auf der Party-Version einen Titel seiner Töchter Hayley und Taylor-Ann Hasselhoff als Duo BELLA VIDA. Mit der Dance-Hymne "Masquerade" hinterlassen sie auf der Party-Version von "A Real Good Feeling" ihre ganz eigene Spur.
Bei allem Glanz – David Hasselhoff hat auch schwierige Zeiten durchlebt. Seine Karriere ist geprägt von phantastischen Erfolgen als Schauspieler und Sänger, aber auch von privaten Krisen. Seine zurückliegenden Alkoholprobleme haben für Unmut gesorgt. Seine Art, dazu zu stehen, hat ihm hingegen Respekt eingebracht. Licht und Schatten liegen eben nahe beieinander. Heute sagt der Schauspieler und Sänger: "Es geht mir fantastisch! Es ist ein tolles Gefühl, wie herzlich ich wieder aufgenommen werde. Es ist einfach unglaublich, welche Begeisterung die Serien Knight Rider und später auch Baywatch weltweit ausgelöst haben. Ich war in so vielen wunderbaren Ländern und wurde überall als Freund empfangen. Diese unvergessliche Zeit ist ein Teil von mir."
In seiner Biographie "Wellengang meines Lebens" (seit Frühjahr 2010 im Handel) geht David Hasselhoff noch weiter: "Wichtig ist doch nur, dass den Leuten die Musik gefällt, die ich mache und dass wir zusammen eine gute Zeit haben! Als kleiner Junge wollte ich schon auf der Bühne stehen. Mein Vorbild war Sammy Davis jr., Mr. Wonderful, der Entertainer, der niemals aufgab. Sammy brachte mir bei, dass Menschen Träume haben müssen, damit sie im Leben vorankommen. Wenn man an das Talent glaubt, das einem Gott gegeben hat, dann werden große Dinge geschehen. Yes I can war das Motto meiner Kindheit – und nach dem lebe ich heute noch. Das versuche ich auch mit meiner Musik weiterzugeben. Das Leben ist wie Wellenreiten, mal surfst Du auf der Welle, dann stürzt Du runter. Wichtig ist, die Welle immer wieder zu reiten, bis ans Ende."
Mit dieser Philosophie geht David Hasselhoff auch an seine neuen Projekte: Nachdem er zuerst den Nachwuchs als Juror von "America's Got Talent" (das Pendant zum deutschen "Supertalent") gefördert hat, wird er dieses Jahr in der Jury von "Britain's Got Talent" sitzen. Und im Tonstudio hat sich "The Hoff" mit "A Real Good Feeling" seinen persönlichen American Dream rund 20 Jahre nach seinen Welterfolgen wieder erfüllt. Aber nicht nur das: 2011 war "The Hoff" nach vielen Jahren Abwesenheit endlich auch wieder auf kontinentaleuropäischen Konzertbühnen unterwegs – äußerst erfolgreich und viel umjubelt! Stadionatmosphäre war vom ersten Song an garantiert. Bei der Tournee "The Hoff Is Back" hat er vorab auch Songs aus seinem neuen Album präsentiert. Ab 1. April gibt's jetzt den passenden Tonträger für alle. Der Titel ist sein Credo: "A Real Good Feeling".
Weitere Infos: www.davidhasselhoff.com.