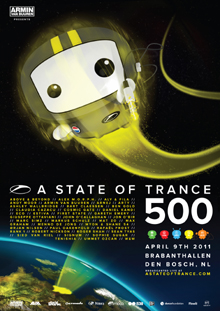 Zur Feier der 500. Folge von Armin van Buurens erfolgreicher Radioshow "A State Of Trance" lädt Armada zur bahnbrechenden, interkontinentalen Event Reihe mit Liveübertragung ein. Kürzlich ging die nunmehr 500. Sendung von Armin van Buurens preisgekrönter, allwöchentlicher Radioshow über die weltweiten Radiowellen und Internetverbindungen. Seit dem Launch der Show vor zehn Jahren ist "A State Of Trance" mit weltweit mehr als 15 Millionen Hörern zu einer festen Instanz in der globalen Dance Szene avanciert.
Die 500. Folge und der 10. Geburtstag werden nun gebührend im ganz großen Stil mit insgesamt fünf besonderen, an die Radioshow angelehnten "A State Of Trance 500" Events auf fünf Kontinenten gefeiert. Während die ersten Events in Südafrika, USA und Argentinien bereits mit Tausenden von begeisterten Besuchern in den letzten drei Wochen stattfanden, steht das große Finale mit Parties in Holland am 09.04. und Australien am 16.04. noch bevor.
Das absolute Highlight der "A State Of Trance 500" Event Reihe ist dabei die Party diesen Samstag in den Brabanthallen der nah der deutschen Landesgrenze gelegenen, holländischen Stadt Den Bosch, die als weltweit größtes Trance Spektakel alles bisher Dagewesene übertrifft. Auf dem Line-Up zu finden sind mehr als 40 namhafte DJs der internationalen Trance und Progressive Elite, die sich auf insgesamt fünf Floors der Plattenteller annehmen werden – darunter nicht nur der Gastgeber und weltweite No.1 DJ Armin van Buuren selbst, sondern auch Größen wie Paul Oakenfold, Markus Schulz, Cosmic Gate, Roger Shah und viele mehr.
Damit sich so vielen Hörern und Fans wie möglich die Gelegenheit bietet, dem Ereignis beizuwohnen, werden sämtliche Events über einen speziellen, kostenlosen Internet Live-Stream auf www.astateoftrance.com live übertragen.
Das beste Mittel zur Einstimmung auf das anstehende Ereignis liefert Armin van Buuren unter seinem "Gaia" Alias mit der eigens produzierten, offiziellen "A State Of Trance 500" Hymne "Status Excessu D", die ab sofort überall als Download erhältlich ist.
Armin van Buurens Radioshow " A State Of Trance" ist in Deutschland jeden Freitag von 18 – 20h auf Radio Sunshine Live zu hören – www.sunshine-live.de
TRAILER - "A STATE OF TRANCE 500"
OFFIZIELLES MUSIKVIDEO - ARMIN VAN BUUREN PRESENTS GAIA – "STATUS EXCESSU D"