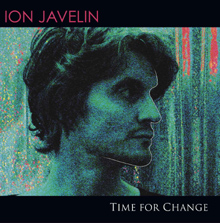 Er ist wieder da: Kopf und Stimme des deutschen Techno-Kult-Acts aus den späteren 80ern! Moskwa TV mit Sänger und Songwriter Ion Javelin schlug die Brücke von frühem Techno - mit großem Einfluß auf die damalige Techno-/Electro-Szene – hin zu anspruchsvollem Electro-Pop.
Ion Javelin hat nun in enger Zusammenarbeit mit Andreas Velte und Christian Walter [Fruit, Klanghouse-Studio (Nils van Gogh, Mundstuhl, Automanic u. a.)], Paul-Alexander Schulte [Earth Nation, Vorsprung durch Technik, Winson, Laith Al-Deen, DAF, Silicon Funk] und Mike Burn [Mike Burn & Friends, The Mabuse Project (mit Kai Eckhardt, Sean Rickman & David Haynes), Burn/Hewer/Iorio (mit Mark Hewer & Daniel Iorio) u. a.] das Art Pop-Album 'Time for Change' produziert, das im Vergleich zu den früheren Moskwa TV's reifer, vielfältiger und einfach geiler geworden ist, ohne dabei jedoch zentrale Merkmale gerade des letzten Moskwa-Albums 'Javelin' missen zu lassen: spannungsreiche, ausgeklügelte Kompositionen, charismatischer, in den Refrains oft mehrstimmiger Gesang, fein abgestimmte, lebendige Arrangements, die ab und an Platz für (auch akustische) Soli lassen, phantasievolle Soundlandschaften sowie anspruchsvolle Texte mit psychologischen, politischen und philosophischen Bezügen.
Abgesehen von den lupenreinen Electro-Pop-Titeln 'There is Something' und 'Being boiled', einem dynamischen, originell arrangierten Cover des Human League-Klassikers in straight-housigem Beat, sowie einem weiträumig angelegten, von elektrischen Gitarren dominierten und durch den fretless Bass Kai Eckhardts [Stanley Clarke, Billy Cobham, John McLaughlin] zusätzlich angetriebenen Track (Lose myself), der aus einer Kollaboration zwischen The Cure, Japan und Tears for Fears hervorgegangen sein könnte, bewegt sich der Longplayer mal in lounge-liken (The Ability to change, A Place in the City), mal in minimalistisch-elektronischen (Paranoia, Generator X.O.7/8) Gefilden, um sich andererseits romantisch & soundtrackartig (Let her go) oder ungestüm electro-ravig mit Anklängen an die Chemical Brothers und Underworld, jedoch poppiger, songorientierter (Take a Chance) zu präsentieren.
Ferner ist ein abgefahrenes, leicht darkwavig eingefärbtes Duett (Walking through the Rain) mit Antje Schulz [In strict Confidence, Chandeen, Spin spin Sugar] zu hören. Abgerundet wird der Longplayer mit dem bisher unveröffentlichten Bonus Video-Track 'Pulsing Adrenaline', der dem Song-Zyklus von Javelins letztem Album 'Broken Surface' (in Zusammenarbeit mit Harald Löwy [Chandeen]) entstammt und in seiner Mischung aus Experimental-, Ambient-, balladesken sowie jazzigen Elementen die ungewöhnliche musikalische Vielfalt des Albums um ein Weiteres bereichert.
Time for Change' ist wie ein missing Link für Jeden, der an ideenreicher und intensiver, vorwiegend auf synthetischen Klangerzeugern basierender, aber dennoch organischer Musik interessiert ist und einen klaren Gesang mit unverwechselbarem Timbre schätzt, der in einem gedachten Stimmenkosmos dem Sternbild des reflektierend-kontrollierten, dabei gleichwohl stark emotionalen Einzelgängers zuzuordnen wäre, irgendwo zwischen Gahan, Sylvian, Heppner, Hutchence, le Bon und dem frühen Ferry.
 
Gerade aufgrund des bereits seit einigen Jahren konstant anhaltenden 80er-Revivals [IAMX, Heaven 17, Duran Duran, Hurts, Wolfsheim, De/Vision, Air etc.] dürften sich auch jüngere Hörer mit einem Gespür für exquisiten, elektronisch basierten Pop stark in der Musik Ion Javelins wiederfinden.