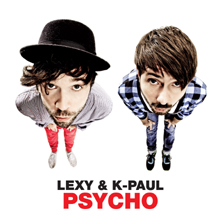 Man kann sie gar nicht mehr zählen, die glücklichen Gesichter, die Lexy und K-Paul mit ihrer Musik rund um den Erdball hinterlassen haben. Ihre Live-Shows sind unvergleichliche Partys, und zwar gleichermaßen für Herz, Hirn und einen wackelnden Popo. Genau das sind die Dinge, die auch auf dem neuen Album "Psycho" wieder auf höchstem Niveau stimuliert werden.
Kompromisslose Hammerbuden wechseln sich ab mit fein gesponnenen Moll-Tracks und erhabenen Pop-Songs, alles folgt einer ausgefeilten Dramaturgie, die das komplette Durchhören der Platte am Stück zu 70 Minuten Quality-Time im Viervierteltakt veredeln – ein Umstand, den man bei einem Club-Act nicht genug preisen kann.
Und weil singen das Einzige ist, was unsere Helden NICHT können, geben sich natürlich auch bei "Psycho" wieder hochkarätige Gastvokalisten die Klinke in die Hand. Auf ´Like That´ und ´Kiss Goodbye´ umschmeichelt einen das seidenweiche Organ vom Berliner Freund und Kupferstecher Ono (Data MC), bei ´Faultline´ presst einem das melancholisch-liebliche Zirpen von Katrina Anne Noorbergen, Sängerin der australischen Indie-Überflieger Cassette Kids nahezu Tränen der Rührung aus den Augen. Wovon selbstverständlich Princess Superstar, die brandgefährliche Alarm-Braut aus New York, meilenweit entfernt ist.
Bei ´Psychokiller´ hört jedenfalls der Spaß auf, dafür sorgen spätestens die Acid-Modulationen, die sich zusammen mit ihren Raps durch das Stück fräsen. Da fehlt zum vollendeten Wahnsinn nur noch Jake The Rapper, der mit seinen düsteren Visionen den perfekten Soundtrack zum Bar25-Exodus liefert, insofern kann der Track gar nicht anders heißen als ´The Edge Of Control´. Das Wort ´ferngesteuert´ könnte in diesem Zusammenhang fallen, und als hätte er es geahnt, erzählt uns Marteria in gekonnt deutlichen Worten vom ´Roboter´. Den Reigen der überaus gelungenen Gesangsdarbietungen rundet Pyur schön, rein und herzzerreißend mit ´On The Fastest Train´ ab.
Es erzählt eine stimmige Geschichte, dieses Album. Dazu sprudelt es vor musikalischem Ideereichtum, legt eine frappierende Cleverness an den Tag, zeugt von weltmännischer Gewandtheit und Berliner Lässigkeit zugleich. Wenn unsere zwei Berliner so weitermachen, stehen demnächst Madonna, Kylie Minogue und Lady Gaga auf der Matte und wollen sich ihre Platten von ihnen produzieren lassen. (Markus Kavka)
Lexy & K-Paul
Psycho (Album)
MUSICISMUSIC
VÖ:  13.05.2011