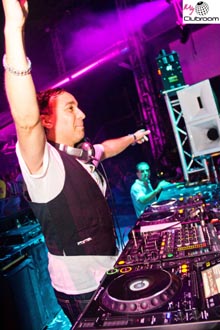 Die Ibiza-Saison kann starten. Global Player DJ Sammy kehrt mit "MyClubRoom" zurück auf die Insel und zieht jeden Dienstag ins Privilege. Nach dem unglaublichen Erfolg der MyClubRoom Eventreihe im Privilege letztes Jahr, die sogar als "The Best Revelation Event 2010" nominiert und ausgezeichnet wurde, haben die Macher um DJ Sammy den ganzen Winter damit verbracht, ihre Rückkehr zu planen und 2011 noch gigantischer zu gestalten.

Diese Saison wird alles noch größer, noch spektakulärer und voller Überraschungen. "MyClubRoom" bringt die Essenz der besten elektronischen Musik, mit einer spektakulären Trilogie an Shows, die die Clubbesucher bis zur Ekstase aufputschen werden.

Natürlich finden die MyClubRoom Events wieder im Privilege, auf der größten und schönsten Clubbühne Europas statt. Unglaubliche Visuals und eine riesige LED-Leinwand mit 137 Quadratmetern, werden das Publikum mit einzigartigen, verrückten Effekten wegblasen

Die MyClubRoom Nights warten mit Luftakrobaten, Pole Dancern, Live-Musikern mit Keyboards, Violinen und Percussion, einer einzigartigen LED- und Lasershow, unvergleichlichen Visuals, Feuerwerk und einer einzigartigen Dekoration auf. Dazu heizt ein Team der heißesten Ibiza Dancer die Partycrowd weiter auf.

Headliner von MyClubRoom ist der weltberühmte DJ-Megastar und Mastermind DJ Sammy, der mit weit über einer Million verkaufter Alben zu den erfolgreichsten elektronischen Künstler überhaupt zählt. 2011 veröffentlicht er seine neue Sommerhymne "Animal", die er zusammen mit Jean Baptiste (Songwriter – Black Eyed Peas, Kelis, Rihanna u.a.) geschrieben und produziert hat und die in den USA bereits für Furore sorgt. Ihn begleitet Ibizas bester Newcomer DJ von  2010, Julian Vegas, zusammen mit den Bora-Bora-Beach-Legenden Danny Fernandez und Enric Ricione. Für die Live-Vocals sorgt die mitreißende englische "Sexbomb" Nyah. Und zu den Special Guests gehören Carlos Jean und Alan Alvarez.

MyClubRoom bietet der Ibiza-Crowd eine Nacht voller Überraschungen mit den absoluten Top-Stars, heißesten Newcomern,  Performern, Akkrobaten und Gästen, und das während der ganzen Saison. MyClubRoom ist ein spektakuläre Show für alle Sinne, nicht bloß DJs und Musik – Licht, Visuals und Effekte, bei denen man einfach tanzen muss, ein nie endendes Abenteuer einer magischen Nacht.

Am 28. Juni steigt die gigantische Opening-Party. Jeden Dienstag übernimmt MyClubRoom dann  das Nightlife von Ibiza bis zur krönenden Closing Party am 6. September.

MyClubRoom Dates Ibiza
28. Juni 2011: MyClubRoom / Opening Party / Privilige / Ibiza
jeden Dienstag: MyClubRoom / Privilige / Ibiza
06. September 2011: MyClubRoom Closing Party / Privilige / Ibiza

MyClubRoom ist die Erfahrung, die du machen musst!

Check the video from the MyClubRoom dates 2010!