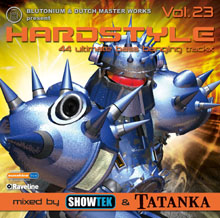 Der Sommer ist da und damit Zeit für die großen Outdoorfestivals. Hunderttausende werden auch dieses Jahr wieder zu den großen Raves pilgern um Emotionen, Ekstase und die heftigsten Bässe zu erleben. (Defqon1, Dance Valley, Decibel Outdoor, Airbeat One, The Qontinent, Vibration Hits und viele mehr). Hardstyle Vol.23 wird euer Soundtrack für den perfekten Partysommer.

Ab Freitag den 1. Juli 2011 könnt ihr wieder die größten und neuesten Hits der Harder Dance Styles in den Händen halten. Blutonium und Dutch Master Works präsentieren Hardstyle Vol.23. Showtek – der Benchmark in Sachen Hard Dance haben für die neueste Ausgabe einen der erfahrensten Hardstyle Heroes gebeten auf CD2 zu zeigen, was italienische Urgewalt bedeutet – Tatanka. Gemeinsam zünden sie ein perfekt gemixtes 2,5 stündiges Feuerwerk auf einer Doppel-CD und als digitaler Download.

Showtek sind nicht nur die weltweite No.1 der Hard Dance Szene, sie haben auch den Crossover geschafft. Sie sind Hollands heißester Dance Export und die Welt ist ihnen eigentlich zu klein. Russland, USA, Malaysia, Europa, Australien – die ganze Welt feiert Showtek und ihren einzigartigen Sound. Grenzen gibt es keine mehr. Gemeinsame Projekte mit Tiesto, Ferry Corsten, Deadmau5 und vielen anderen bringen Showtek  nicht nur weiter in den Dance Olymp sondern zeigt auch Fans anderer Genres die enorme Energie des Hardstyles. Wer Showtek live in Deutschland sehen möchte geht zur Airbeat One oder dem Vibration Hits Festival in Rheine.

Zur 23. Hardstyle Ausgabe steht ihnen das Hardstyle Urgestein Tatanka (aka Valerio Mascellino)zur Seite. Der Name Tatanka ist der alte indianische Begriff für Bison. Und wie eine stampfende Bisonherde bringt er die Bühnen dieser Welt mit seinen Auftritten und Produktionen zum Beben. Der Inhaber von Zanzatraxx bringt seit 18 Jahren pure Leidenschaft, Können und unglaubliche Energie unter das Dance Volk und hat mit unzähligen Hits seine Alphatier Rolle des Hardstyle bewiesen. Seit dem Beginn der Hardstyle Serie ist Valerio mit seinen Produktionen vertreten. Entweder als Tatanka oder seinen alias T.A.T.A.N.K.A Project, Tatarola, Zanza Labs oder Projekten mit DJ Activator (Tatact) und Zatox (Wild Motherfuckers, Tat & Zat). Alle Einnahmen seines Tracks "Eternal" spendet er einer Stiftung für die Erdbeben- und Tsunami- Opfer in Japan.

Herausgekommen ist eine grandiose Doppel-CD mit allen Styles und Fassetten, die Hardstyle so besonders macht. 44 Hits am Stück, neue und exklusive Titel von Showtek, Tatanka, TNT, Coone und natürlich die neue Defqon1 Hymne der Noisecontrollers. Hardstyle Vol.23 lässt keine Wünsche offen und wird Euch durch den Sommer begleiten.

Wie die Vorgängeralben wird auch Hardstyle Vol. 23 weltweit veröffentlicht und steht auch in allen Downloadstores zum legalen Herunterladen bereit.

We live For The Music!