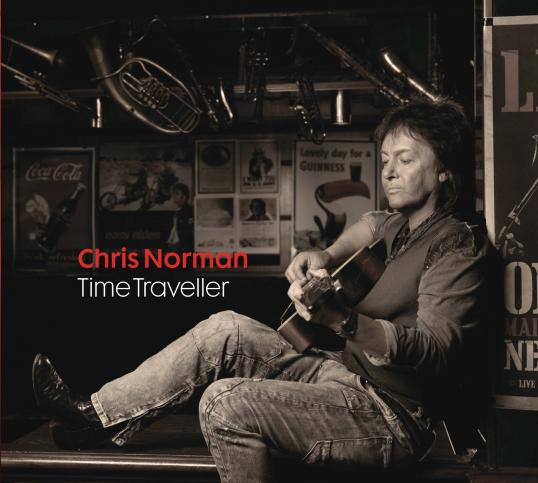 In der heutigen Musikwelt gibt es nur noch wenige Giganten. Chris Norman gehört zweifelsohne dazu. Was die Menschen an Chris Norman am meisten lieben, ist seine rau-romantische Stimme, mit der er "Smokie" zu einer der populärsten Gruppen der 70er und 80er Jahre gemacht hat.

Mit Hits wie "Living next door to Alice", "I'll meet you at Midnight" oder "Lay back in the arms of Someone" haben Smokie über Jahre die weltweiten Charts beherrscht und unzählige Preise abgeräumt. Chris Normans neustes Album hat mit dem Sound von "Smokie" allerdings nicht mehr viel zu tun – mit "Time Traveller" betritt Norman neue Pfade und begibt sich auf eine Reise durch die musikalische Vergangenheit.

Auf "Time Traveller" hat Norman seine ganz persönlichen Lieblingssongs in seiner unverwechselbaren Art neu interpretiert. Der Titel des Albums "Time Traveller" spiegelt diese Idee wider: Genre übergreifende Songs aus verschiedenen Zeiten der Geschichte des Rock und Pop. "Ich habe schon seit 1992 darüber nachgedacht, ein Album mit meinen Lieblingssongs anderer Künstler aufzunehmen, aber irgendwie war die Zeit noch nicht reif dafür", so Norman.

2011 ist nun endlich der Zeitpunkt gekommen und Chris Norman hat mit "Time Traveller" ein Album produziert, das den Nerv der Zeit trifft – es klingt gleichzeitig modern und unheimlich vertraut.

Bei der Auswahl der Songs hatte Norman eine klare Vision: "Ich wollte Songs covern, die aus verschiedenen musikalischen Epochen stammen, nicht nur alte Klassiker, sondern auch aktuelle Titel. Für mich war das Hauptkriterium bei der Songauswahl die Frage "Liebe ich dieses Lied?" und die Songs, die ich ausgewählt habe, sind allesamt Titel, die ich liebe."

Gerade bei Interpretationen neuerer Songs, wie "Wake Me Up When September Ends" von Green Day oder "Chasing Cars" von Snow Patrol kommt Chris Normans unglaubliches Gespür für Stimmungen und Gefühle zur Geltung. Aber auch ältere Titel wie "I Can´t Dance" von Genesis oder "Moonlight Shadow" von Mike Oldfi eld gewinnen durch Normans Interpretation an Tiefe. Im Herbst wird Chris Norman sein neues Album endlich live mit seiner Band präsentieren, die "Time Traveller" Tournee führt ihn dann auf die deutschen Konzertbühnen, wo er die Songs des Albums, sowie seine größten Hits spielen wird.