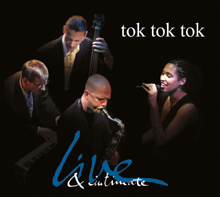 Mit "live & intimate" laden uns Tok Tok Tok auf eine kleine Zeitreise ein und präsentieren uns ein wahres Juwel aus der Tok Tok Tok Schatztruhe: einen Konzert-Live Mitschnitt aus dem Jahre 2002. In der intensiven Atmosphäre des Ballhof Theaters Hannover aufgenommen, könnte es kein schöneres Dokument für Tok Tok Tok's kammermusikalische Intimität geben.
 
Für "live & intimate" haben Tok Tok Tok 12 Songs aus dem Konzertprogramm ausgewählt, und als zusätzliches Schmankerl enthält das Album ein Bonus- Video mit weiteren Konzertausschnitten des selben Konzertabends, darunter auch Songs, die nicht im Audiopart des Albums dabei sind. Bis auf den Stevie Wonder- Klassiker "i wish" stammen alle Songs aus der Feder des Songwritergespanns Morten Klein und Tokunbo Akinro. Morten Kleins Saxophon, Ritchie Staringers Fender Rhodes und Frank Fiedlers Kontrabass verweben sich zu einem filigranen Stoff, der die sinnliche Stimme Tokunbo Akinros trägt. Schon das freche "i don't want to see you", der Opener des Album, macht gespannt auf die weiteren Songs. Darunter das entspannte "damn good girl", das bluesige "when i'm feeling sad", die Ballade "always and excuse", die Ode an die Freundschaft "cherries from my neighbour's tree", das geheimnisvoll beginnende "magic to my heart" und der Tok Tok Tok Hit "you drive me crazy".
 
Lustvoll und mit Leichtigkeit und großer Spielfreude folgen die Musiker in den Solo- Improvisationen ihren kreativen Eingebungen, und wir finden neben groovig-souligen Tönen auch Anklänge an Bach. Hier zeigt sich einmal mehr die große Stärke Tok Tok Toks: Das sensible auf einander Hören und einander Folgen. Dieses telepathische Zusammenspiel, welches seines Gleichen sucht, bringt dem Zuhörer die magische Atmosphäre des Konzerts zum Greifen nahe, so dass man buchstäblich die berühmte Stecknadel fallen hören kann. Und Tok Tok Tok Fans werden sich darüber freuen, dass Morten Klein's legendäre Mouth Drums auf diesen Aufnahmen in zwei fulminanten Soli ihren verdienten Raum finden. In höchster Klangqualität erleben wir hier ein musikalisches Abenteuer voller Dynamik.