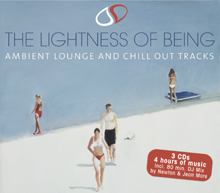 Die Leichtigkeit des Seins genießen, den Kopf abschalten und mit sanften Beats und sphärischen Klängen entspannen. Die Compilation The Lightness Of Being vereint auf 3 CDs eine gelungene Mischung elektronischer Chill Out Musik und Ambient Tracks von höchster Qualität.

Die Deluxe-Box beinhaltet stimmungsvoll zusammengestellte Chill Out Classics von internationalen Größen wie Moby, Röyksopp, Air, Kings of Convenience, Pet Shop Boys oder Télépopmusik und erscheint auf dem legendären Label Harvest Records auf dem Legenden der progressiven und elektronischen Musik wie Pink Floyd und CAN, aber auch deutsche Elektronik Acts in den 90ern ihre Alben veröffentlichten.

Daneben finden sich auch namhafte Künstler der Lounge & Chill-Out Szene wie Blank & Jones mit ihrer aktuellen Single, Lemongrass, Mysteric Diversions oder die australischen Shootingstars Empire of the Sun und ihre Landsleute von Miami Horror.

CD 3 beinhaltet einen ca. 80 Minuten langen Non-Stop DJ-Mix, der zum pausenlosen chillen einlädt. Gemixt von Newton & Jean Mare, einem der fleißigsten deutschen Produzenten-Teams im Bereich Downbeat.

Insgesamt enthält The Lightness of Being ca. 60 Tracks, mit einer Spielzeit von etwa 4 Stunden - eine Auszeit für die Sinne und inspirierendes Lounge-Feeling der Extraklasse!