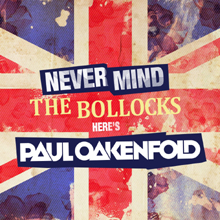 Seit zwei Dekaden herrscht Paul Oakenfold bereits über die weltweiten Dancefloors und zählt zu den vielseitigsten und erfolgreichsten Dance-Protagonisten der internationalen Musik-Szene. Mit seinen Sets bedient die lebende DJ-Legende dabei seit jeher eine große musikalische Bandbreite, serviert jedoch stets einen melodischen und energiegeladenen Sound.

Eine aufregende Kostprobe seines frischen, dynamischen "Full On Fluoro" DJ-Sounds liefert der musikalische Querdenker nun mit "Never Mind The Bollocks – Here's Paul Oakenfold". Auf seiner neuen Compilation präsentiert der Star-DJ fern aller Schubladen eine persönlichen Auswahl der stärksten und neusten Tracks aus Trance, Psy, House, Progressive und Breaks. Gespart wird von dem Briten dabei vor allem nicht an Highlights aus den Repertoires seiner Soundschmiede Perfecto und seines jüngst relaunchten Kult-Labels Perfecto Fluoro.

Teils bisher unveröffentlichte Neuheiten von den vielversprechendsten Label-Neuzugängen wie Beatman & Ludmilla und Federation reihen sich an gefeierte Perfecto Fluoro Klassiker, die unter der Remix-Ägide von talentierten Producern wie HAARP, Nick Sentience und Apogee zu neuem Glanz aufpoliert wurden. Obendrein gibt es noch eine ganze Reihe verlockende Exclusives von bekannten Namen wie Tom Colontonio und Jamie Harrison.

Natürlich hält "Never Mind The Bollocks" auch frisches Material vom Meister selbst bereit, darunter die aktuelle Single "Tokyo", zwei neuen Kollaborationen mit Marco V und Infected Mushroom, sowie sein bald erscheinendes, neues Release "Full Moon Party".

In seiner legendären Mix-Manier wartet Paul Oakenfold auf "Never Mind The Bollocks" mit insgesamt 2 1/2 Stunden und 41 Top-Tracks geballter, unbeugsamer EDM-Power allererster Klasse auf, die sich kein Liebhaber energiegeladener Dance-Musik entgehen lassen sollte.