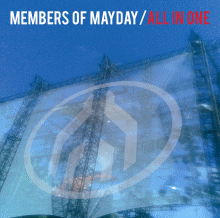 Die Mayday ist neben der Loveparade das Symbol schlechthin für eine Jugendbewegung, die Anfang der 90er Jahre mit der ersten Mayday-Veranstaltung vor 5.000 Zuschauern in der Halle Weißensee in Berlin ihr erstes Äquivalent zum Open Air Event der Loveparade fand. Mittlerweile ist die jährlich am 30.04. veranstaltete Mayday zum größten und erfolgreichsten Indoor Dance Event in Deutschland avanciert und hat mit der Dortmunder Westfalenhalle seine finale Homebase gefunden. Das war nicht immer so, die Mayday wechselte mehrmals ihre Standorte samt Locations und wurde zeitweise sogar zweimal jährlich ausgetragen.
Bei all diesen anfänglichen "Unregelmäßigkeiten" gab es doch von Anfang an immer zwei Konstanten, die die Mayday bis heute nicht nur begleiteten, sondern wesentlich prägten: Die zur jeweiligen Mayday von den Members of Mayday geschaffene Hymne und der dafür verantwortlich zeichnende Produzent Klaus Jankuhn mit seinem Counterpart DJ Maximilian Lenz, besser bekannt als WestBam.
Mit der Members Of Mayday "All In One" veröffentlicht Low Spirit, das Label, das die Mayday von Beginn an prägte, in Zusammenarbeit mit Kontor Records ein Album, das die wichtigsten Hymnen der Mayday-Geschichte -angefangen mit der "Mayday Anthem" aus dem Jahre 1992 bis zur aktuellen 2009er Hymne "Massive Moments"- beinhaltet. Das Besondere an dem Album ist, dass WestBam nicht nur für die Trackauswahl verantwortlich zeichnet, sondern durch seinen Mix dem Album "All in One" seinen eigenen Stempel aufdrückt, mit dem er ein absolut authentisches Mayday-Feeling schafft! Members Of Mayday "All In One" ist damit das absolute Must have für alle Anhänger und Mitglieder der Rave- und Technobewegung.
Members of Mayday – All In One
Label: Low Spirit (Marketed by Kontor Records)
VÖ: 17.04.2009