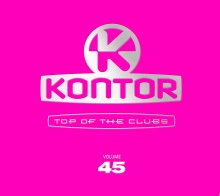 Die ''Kontor Top Of The Clubs'' ist seit 11 Jahren die Instanz in der Dance-Szene und ein zuverlässiges Barometer für die musikalischen Trends in den Clubs. Und sie ist dabei noch kein bisschen leise geworden. Viele der für die ''Kontor Top Of The Clubs'' ausgewählten, und zum Teil noch unveröffentlichten Tracks, sind erstmalig und exklusiv auf einer Compilation vertreten und damit Trend setzend! Für die Zusammenstellung und das Mixing der Volume 45 zeichnet sich wie gewohnt ein DJ- Aufgebot der Extraklasse verantwortlich.
Auf CD1 geht es gleich mit Gordon Hollenga (eine Hälfte von The Disco Boys) und Jay Frog (Ex-Mitglied von Scooter), aka Master & Servant, richtig los. Die beiden Top-DJs und Produzenten haben bereits für zahlreiche Produktionen und Compilations (u.a.  ''Kontor Top Of The Clubs'' und ''The Disco Boys'') ihr musikalisches Gespür unter Beweis gestellt. Auf der aktuellen ''Kontor Top Of The Clubs'' stellen Master & Servant ihr brandneue Studioproduktion ''Into The Groove'' exklusiv vor! Außerdem mit dabei sind Titel von David Guetta, Michael Mind Project, Guru Josh Project, Fragma, Inna, Steve Aoki, Finger & Kadel, Ida Corr, The Disco Boys, Laurent Wolf, R.I.O., Snap! und vielen mehr!
Für das Mixing von CD2 zeichnet sich Chart-Stürmer Rico Bernasconi (''Cruel Summer'' & ''Love Deep Inside'') verantwortlich. Auch er präsentiert erstmalig und exklusiv seinen brandneuen Floorburner ''Hit The Dust'' auf einer Compilation. Bei ihm finden sich außerdem Club-Hits von den Sunloverz, Eric Chase, Dirty South, Sharam feat. Kid Cudi, Sonic Palms, Tocadisco, Abel Ramos, Robbie Rivera, Scooter und vielen mehr im DJ-Set. ''Four-to-the-Floor''-Sound at its best!
Auf CD3 übernimmt schließlich ''Top Of The Clubs''-Tastemaker Markus Gardeweg die Regler und besticht wie immer mit seiner Trackauswahl. In gewohnt ''clubbiger'' Manier mischt er die aktuellsten Club-Perlen und zukünftigen Club-Hits von den Bingo Players, TV Rock, Da Hool, Eddie Thoneick, Funkerman, Sono, Jean Claude Ades vs. Lenny Fontana, Martin Solveig, Tiger Stripes, Lexy u.v.m.!
Das Ergebnis ist vier Stunden bester ''Top Of The Clubs''-Sound in the Mix, festgehalten auf drei randvollen CDs, die im edlen Digipac kommen! Ein MUST HAVE für jeden Club-Music-Fan!