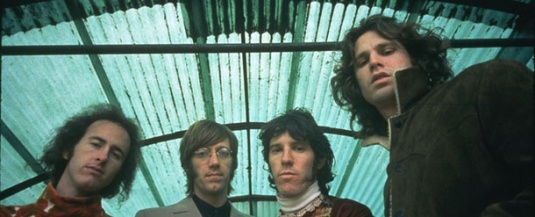 Die "Doors" kommen ins Kino. Ab dem 1. Juli wird Jim Morrison in Tom DiCillos Kinodokumentation THE DOORS: WHEN YOU'RE STRANGE zumindest auf der Leinwand wieder lebendig. Und vergessen sind für einen Moment die Querelen, die nach seinem Tod im Umfeld der Band entstanden.
Die Zeit danach
Die Geschichte der Band während ihres Bestehens ist oft und gut beschrieben worden. Songs wie "Light my fire" oder "When you're strange" sind bis heute unsterbliche Klassiker. Als weniger unverwundbar hat sich leider bekanntlich der charismatische Sänger der Band erwiesen:  Jim Morrison starb im Sommer 1971 im jungen Alter von 27 Jahren.  Übrig blieben die anderen Doors: Gitarrist Robby Krieger, Schlagzeuger John Densmore und Tastenmann Ray Manzarek. Auch ohne Morrison versuchten sie sich zunächst weiter zusammen und brachten noch zwei Alben heraus, allerdings weniger erfolgreich. Die Band löste sich daraufhin 1973 auf.
Auf Solo-Pfaden
Es folgte eine Phase der musikalischen Selbstfindung und ebenso ambitionierter wie vergleichsweise erfolgloser Versuche der ehemaligen Doors-Mitglieder, mit eigenen Projekten an die große Ära ihrer Überband anzuknüpfen. Robby Krieger versuchte sich als Jazz-Musiker, spielte im Studio für Blue Öyster Cult ein und schlug für Eric Burdon in die Seiten. John Paul Densmore spielte mit Robby Krieger zunächst bei The Butts Band und verabschiedete sich dann von den Brettern des Rock'n'Roll, um sich verstärkt dem Tanz und dem Theater zu widmen. Erst viel später wendete er sich mit seinem Projekt Tribaljazz wieder seinen Wurzeln zu. Ray Manzarek schließlich trat vor allem als Solo-Interpret in Erscheinung - erfuhr damit aber wenig Anerkennung. Nichtsdestotrotz bewiesen die verbliebenen Doors, dass sie auch ohne Jim Morrison große Musiker sind - nur eben nicht mehr so erfolgreich wie früher.
"The Doors Of The 21st Century" und "Riders On The Storm"
Es kam, was kommen musste: Der Versuch einer Wiedervereinigung.  Im September 2000 war es soweit, die Musiker trafen sich zu einem Reunion-Konzert wieder, bei dem sie mit verschiedenen Sängern auftraten und die alten Doors-Songs spielten. Das mündete dann 2002 in einer US-Tour mit Ian Astbury, dem Sänger der Band The Cult. Nicht mehr an Board: John Densmore. Der lag da bereits im Rechtsstreit mit seinen alten Bandkumpels. Diese nannten sich daraufhin "The Doors Of The 21st Century" - was auch nichts nutzte: Nach einer erneuten Niederlage vor Gericht wurde den Überresten der unsterblichen Doors die Verwendung eben jenes Namensbestandteils untersagt: DOORS im Namen war nicht mehr erlaubt. Sie benannten sich daraufhin nach einem ihrer Songs von früher: "Riders On The Storm". Und so heißen sie noch heute.
Im Kino ist die Welt noch in Ordnung
Zum Glück wusste zur Hochphase der DOORS noch niemand etwas von den kommenden Querelen. Und so ist es am schönsten, einfach bei der Musik von damals zu bleiben und in den unsterblichen Momenten zu schwelgen. Besonders gut geht das in Kürze in den Kinos, denn KINOWELT bringt rares Material von damals liebevoll aufbereitet. Angelehnt an den Songtitel macht die gleichnamige Kino-Dokumentation THE DOORS: WHEN YOU'RE STRANGE für einige Momente die Emotionen dieser großartigen Zeit wieder greifbar und der Sound dieser Ausnahmeband zeigt sich lebendig wie eh und je: ab dem 1. Juli in ausgewählten deutschen Kinos.

Hol den Film in deine Stadt
Das Publikum kann mitentscheiden in welchen Städten THE DOORS: WHEN YOU´RE STRANGE zu sehen sein wird.
Doch in welchen Städten wird der spannende Film zu sehen sein? Das kann das Publikum diesmal mitentscheiden! Auf der Facebook-Fanpag zum Film können User ihre Stadt-Vorschläge posten, Gleichgesinnte sammeln - und die KINOWELT organisiert dann je nach Nachfrage alles Weitere!